I get this one a lot.
In fact, this is the question I get more than any other (except, maybe, why don't you start doing a little more around the house, dear?):
Those lost golf courses — what are they now?
At least a half-dozen people asked me that, or a variation thereof, last weekend at the Minnesota Golf Show.  In fact, it's the most-asked question I get from people who know I wrote a book about Minnesota's lost golf courses.
The question is not so much about where the lost courses are now as what they are.
My answers have been general up to now — Minnesota's lost golf courses are now parking lots, pastures, pavements. But, OK, allow me to be specific.
I took a run through my book this afternoon and came up with these numbers on what the lost courses are today.  I divided the results into two categories — primary use or uses of the modern-day site, and secondary use or uses.
Here they are (some lost courses weren't counted because I don't know their exact current site uses):
Primary modern-day use of lost-course sites
Residential development: 22 courses
Farm/rural: 16
Parkland (state parks, nature centers, etc.): 6
Undeveloped urban or suburban land: 6
Business: 4
Athletic fields: 1
Lodge / resort: 2
Rural or semi-rural housing: 1
Airport runway: 1
Prison grounds: 1
Seconday modern-day use of lost-course sites
School grounds: 7
Business: 5
Residential development: 4
Highway: 3
Senior housing / care: 2
Undeveloped urban or suburban land: 1
For the most part, these modern-day sites could hardly be less glamorous, such as the current undeveloped site of the old Joyner's / Brooklyn Park Golf Course, shown below: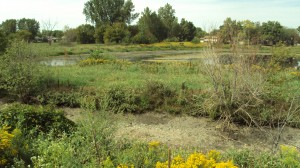 Some of the residential sites have their appeal, such as that on the old Bryn Mawr Golf Club in Minneapolis, below: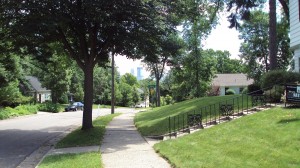 Only two sites, though, stand out: the former Nopeming pitch-and-putt course on the grounds of the former Joyce Estate on Trout Lake north of Grand Rapids: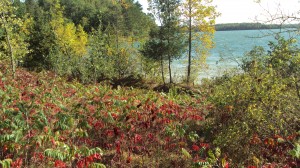 and the former Whitewater Valley Golf Course, in Whitewater State Park, near St. Charles in southeastern Minnesota (the golf course grounds is that area of green grass between the bluffland):