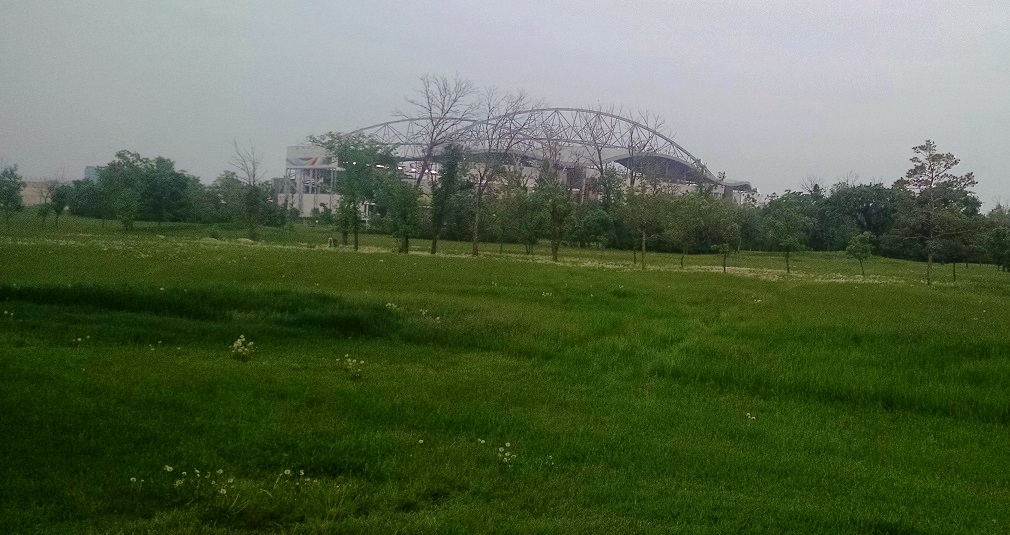 Four-hundred forty-six miles from home, and I stumble upon a lost golf course. Seriously, I almost literally stumble across it.
You know what they say about truth, fiction and strangeness …
Taking a break over the past week from work and casual pursuit of more Minnesota lost golf courses, I was transported along I-94, I-29 and then Manitoba 75 — across Minnesota, up the topographical flat-top haircut otherwise known as northwestern North Dakota and into the land of bilingual road signs otherwise known as Canada. ("What the hell does ARRÊT mean? Damned if I know; I'll just keep driving.")
No, I'm not planning to write a book about the lost golf courses of Canada. How much time do you think I have on my hands?
But Canada — more specifically, Winnipeg — had been beckoning for the better part of a year, since the day the Women's World Cup schedule was finalized. Yes, I have turned into a soccer geek, a transformation for which I will not apologize, and my daughter and I were not about to miss a once-in-a-lifetime opportunity to watch the U.S. Women's National Team open its quest for a world championship.
I will spare everyone the gory details of whether the U.S. can escape unscathed from the Group of Death or whether right back Ali Krieger is fit to cut off the Swedes, much less the speedy Nigerians, from gaining the corner on the American defense. You don't want to know about that, right? RIGHT?
OK, then, I'll focus on golf.
Anyway, shortly after arriving in the World Cup host city, we had been told by a Winnipegger of a way to park free and take a short walk to Investors Group Field, the sparkling new home of the Winnipeg Blue Bombers football team (Minnesota connection: Bud Grant coached the Blue Bombers from 1957-66 and led them to four Grey Cup titles). Just north of the stadium was a large area of green space, posted as property of the University of Manitoba. We skirted the green space on the walk to the stadium, and then, after the Americans' rousing (adjective courtesy of biased U.S. fan) 3-1 victory over Australia, we decided to take a shortcut through more of the green space on the walk back to our parking lot.
Walking on a gravel path and emerging from a line of trees, I looked a few feet to the right and noticed a small area, maybe 100 by 200 feet, that was slightly elevated. Turning to the left, a large field opened before us, the grass and weeds having grown about a foot high. The field was framed by a thin line of trees on the left and another line of trees on the right.
"Whoa," I said. "That looks like an old golf course."
I seriously did not want to say that. The experience of having visited almost 30 lost-course sites in Minnesota taught me to be skeptical. Many of the Minnesota sites I have walked upon look like golf courses but in fact are just open space or farmland or woodland — not lost golf courses.
But even my daughter, who had been on lost-courses forays with me, allowed that, yes, this piece of Canadian sod did indeed look like an old golf course. There were other pathways through the grounds, some of them featuring small, arched, concrete bridges. I pointed out that, about 350 yards or so up what looked like the fairway, there was a patch of different-colored grass, browner than the rest. It reminded me of the site of the lost Whitewater Valley Golf Course in southeastern Minnesota, where the old greensites feature non-native grasses that, when grown over after the course closed, look distinctly different from the rest of the grass.
Tee box. Fairway. Rough. Treelines. Cart paths. Green.
"That REALLY looks like an old golf course," I said, and my daughter could not disagree.
We walked a bit further and struck up a conversation with a Kenyan family that had relocated in Winnipeg a year and a half earlier. ("How do you like Winnipeg?" I asked. "TOO COLD!" the father replied emphatically.) We talked about the soccer game and other things, and then I decided to risk making a fool of myself, though that isn't something — and you can ask my daughter this — I hadn't done a thousand times before.
"Do you know whether there was a golf course here?"
"Yes, there was," the man said.
Aha! My eyes hadn't betrayed me. It was a lost golf course. Seems I can't escape them even if I want to.
—
Back in the States, I learned more about my "discovery."
This was not just any lost course. The tract of land north of Investors Group Field, now owned by the University of Manitoba, was the longtime home of Southwood Golf & Country Club, a significant and historic Canadian golf club.
From what I can gather, and without being willing to sacrifice the entirety of my remaining vacation trying to sort out overlapping and sometimes-contradictory information on the Interweb, here are a few tidbits about Southwood, its predecessors and its present state:
— The club dates to 1894, which makes it practically prehistoric in North American golf terms. Its original incarnation was known as either Norwood Golf Club or, according to the website Golf Manitoba, "the Winnipeg Golf Club with a nine hole golf course located in Norwood." As far as I can tell, Norwood is a neighborhood in Winnipeg, perhaps a mile or two north of the original Southwood grounds.
— "A few years later, in the early 1900's," notes the Southwood Golf & Country Club website, "the Winnipeg Hunt Club was established. … With the demise of the hunt, in 1918, seven golf holes were built and the Club became known as the Winnipeg Hunt Golf Club. The popularity of golf was quickly taking hold in Manitoba and in 1919, an amalgamation was proposed between the committees of the Norwood Golf Club and the Winnipeg Hunt Golf Club.
"Additional land was acquired from the Agricultural College (site of the University of Manitoba) and the proposal was made and accepted to form the Southwood Golf Club in 1919."
— Norwood/Winnipeg GC, then nine holes, was Winnipeg's first golf course, according to Golf Manitoba. And, notes the Southwood website, "As a descendant of the Winnipeg Golf Club (a.k.a. Norwood Golf Club), established in 1894, the Royal Canadian Golf Association recognizes Southwood as the oldest 18-hole golf course in Manitoba."
— Talk about architectural chops; Southwood has them. "The original course," reads Southwood's website, "was designed by Willlie Park, Junior from Musselburgh, Scotland, winner of the British Open in 1887 and 1889. The course was re-designed in later years by Stanley Thompson and was the acclaimed architect's first 18-hole design in Canada." (More Minnesota connections: Park routed Minneapolis Golf Club in St. Louis Park in late fall 1916; Thompson designed North Oaks Golf Club in 1950-51.)
— In 2008, the University of Manitoba purchased "the Southwood Golf Course," according to a university web page, "and acquired the lands in November of 2011." Since then, as is typical with Minnesota lost courses, Winnipeggers have engaged in a vigorous public debate over the ultimate fate of the Southwood grounds. The university would like to develop much of the 120-acre site as mixed-use housing and retail.
— Though the Southwood plot qualifies as a lost course, Southwood Golf & Country Club is not dead. The club moved to a site five miles ('scuse me — 8 kilometers in Canadaspeak) south and reopened in 2011. From the club's website: "Poised graciously alongside the meandering LaSalle River and Trappist Monastery Provincial Heritage Park, the 18-hole course was designed by renowned Canadian Architect Thomas McBroom to the highest standards. The spectacular natural and historic surroundings provide a perfect setting. Tree groves, river valley and historic ruins have been left largely untouched, while natural contours of the land are maximized to create distinct landmarks, shadows, hills and ridges. An additional 9 holes are planned for the future."
— Southwood hosted the Manitoba Open 11 times. Among past champions of the tournament are two-time PGA Tour winner Dave Barr and — two more Minnesota connections — Ev Stuart of Duluth in 1956 and Dayton Olson of Minneapolis in 1963.
So, that's the story of the "newest" lost golf course I have visited. Now, would you like me to tell you about impending new developments in Winnipeg, i.e. why Team USA will thrash Sweden 4-1 on Friday in its second group game?
Didn't think so.