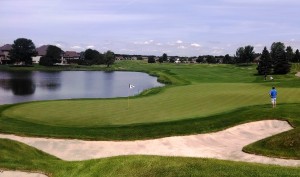 The big news coming out of 3M Championship media day Tuesday was the announcement that the "Big Three" of Nicklaus (that's Jack), Palmer (that's Arnold) and Player (that's Gary) would compete in this year's Greats of Golf competition during 3M Championship week July 28-Aug. 3 at the TPC Twin Cities in Blaine.
My story for the St. Paul Pioneer Press on the announcement can be read here: http://www.twincities.com/sports/ci_25982107/golf-3m-championship-reuniting-arnold-palmer-jack-nicklaus
Surprising news? Somewhat, especially considering the 74-year-old Nicklaus never plays in regular Champions Tour events anymore (hasn't since 2005) and only rarely plays in exhibitions or charity events (he did play as part of a "Big Three" appearance in this year's Insperity Championship at The Woodlands, Texas).
But I wouldn't call the news shocking. Not with Hollis Cavner running the show.
Cavner, the 3M Championship tournament executive director, regularly outdoes himself in terms of landing A-listers. Last year's coup was adding a women's team for the Saturday "Greats of Golf" competition, with a pairing of Annika Sorenstam, Nancy Lopez and Pat Bradley captained by Palmer. I followed that pairing for three holes and was floored by the grace and precision of Sorenstam's swing. Not sure I've seen a better one.
Anyway, as for Cavner, I wouldn't put anything past him. Best guess for next year's 3M: He'll land Old Tom Morris.
A couple of leftover nuggets from Tuesday:
– Here is what fans, who incidentally can attend at no charge, will be watching when the Big Three take to the sprawling greens at TPC Twin Cities: a combined 34 major championships and 191 career victories on the PGA and Champions tours. The breakdown: Nicklaus, 18 majors, 73 wins on PGA Tour, 8 on Champions Tour; Palmer, 7 majors, 62 on PGA Tour, 5 on Champions Tour; Player, 9 majors, 24 on PGA Tour, 19 on Champions Tour (he is credited with 163 worldwide victories).
– Defending champion Tom Pernice is having a strong 2014 season. Pernice, 54, won the Principal Charity Classic in Des Moines, Iowa, has four top-10 finishes and ranks eighth on the Champions Tour money list with $591,917.
– Pernice, who was on hand for media day, on the Big Three's appearance at the 3M Championship and on the TPC Twin Cities course, designed by Palmer and Tom Lehman:
"It's special for me. I grew up idolizing and watching these guys. I played with them a little bit at the beginning of my career. To have Arnold, Jack and Gary – he's ageless at age 70 whatever he is (78, to be precise) – it's going to be exciting.
"… What I like about the golf course is that it has variety. The par 5s have risk and reward to them. You can make eagles; you can make bogeys. … I'm just amazed, with the winter and spring you've had not being very good, at how good of condition the golf course is in.
"It's exciting to me to know that at one time this was a flat piece of land; it's pretty hard to believe. I like that the water's in play, but it's not overly in play. It gives you freedom to play. It's not scary, but it's there.
"We're in the entertainment business; it's good to have birdies as opposed to bogeys. We've all played U.S. Opens, and those are great if you're trying to find the truest champion, but those aren't necessarily fun weeks. … That's their career (PGA Tour players). We're on the other end of our careers; it's good for us to come out and enjoy ourselves. To be able to see the greats come out and play on Saturday is a huge deal for us. The players love it; I personally love it; I get to see them, talk to them, say hello to them. It's pretty special stuff what's going on here at the 3M Championship."