Twenty questions about Minnesota golf history, minus 19:
Which city in western Minnesota was the first to have a golf course?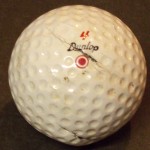 I'll give you 50 guesses, and I'll bet you a beat-up Dunlop you won't guess right.
OK, try this. I'll hand you a cheat sheet of all Minnesota cities (just imagine that I did, Mr. or Ms. Literal), Ada to Zumbrota, and ask you to guess. Probably, you'll say, a fairly large city — Bemidji, maybe. Moorhead, Alexandria, Marshall … you get the idea. Or maybe something medium-sized: Fairmont, Redwood Falls, Detroit Lakes, Worthington.
Wrong on all counts.
Ada to Zumbrota, remember? Except it can't be Zumbrota, because Z-ville isn't even in western Minnesota (I know you knew that, Mr. or Ms. Obvious). …
… which leaves …
… Ada.
Ada, as in bingo. The first golf course in western Minnesota, from everything I have gathered, belonged to Ada, a Norman County town of 1,600 close to — well, not so much of anything except maybe Borup and the North Dakota border. (To be fair, Ada is 40 miles north of Moorhead.)
Am I sure? No more sure than I am that Tiger Woods, who is 42 years old and has had so many back surgeries that he should have started a punch card way back when so he could get the next one free, will win another major championship. Which is to say I'm pretty sure …
… because in a half-decade of scouring reference materials and talking with hundreds of material witnesses, I have never heard of a Minnesota golf course west of Hennepin County with a founding date consisting of a number that combines a nineteen and two zeros or a number that starts with eighteen.
"And now Ada has a club devoting itself to the 'Royal and Ancient game called Goff," the Norman County Herald reported on July 31, 1900. "… The links are in Hampson's addition and if the common rabble will go out there some evening now they will hear some expressions like caddie, tee, hazards, bunkers, putter, cleek, niblick etc. But they say golf is a royal game for steady people."
Quite the backhanded compliment, if I interpret correctly.
Anyway, the Herald story, plus a reprint in the Aug. 2, 1900, Minneapolis Tribune listed the club's members: Rev. Styles, Messrs. and Mesdames Walter Topp, C.C. Allen, George Hosmer, Theodore Tenny (might have actually been spelled Tenney) and C.R. Andrews. The Hampson's addition reference was to an area just east and northeast of downtown Ada that now includes East Side Park. I don't know whether the old golf course lay where the park does now.
I know of two western Minnesota cities with golf courses that were established in 1901 — Marshall and one other that I am trying to pin down details on — but nothing except Ada that dates to 1900 or before.
Ada came by its status as a golf pioneer honestly.  The city, local historian Solveig Kitchell explained in a phone conversation, was first settled by a Scotsman, and most of its early residents were of Scottish and Irish origins. And "the game called Goff," of course, had similar origins.
It appears, however, that Ada's first golf course was as long-lasting as a stick of Juicy Fruit. I found no other references to the golf club in subsequent 1900 issues of the Norman County Herald, nor in scrolling through many issues of the 1901 and 1902 Herald and Norman County Index.
Golf in Ada, then, perhaps lay fallow for nearly the next three decades. Then it sprang back to life.
"May Have Golf Course," read a Page 1 headline in the Norman County Index of April 17, 1930. The story described steps being taken by a group of Ada residents, chaired by Rev. L.C. Jacobson, to form a local golf club.
The club formally organized shortly before April 21. Speaking of acerbic journalistic commentary, the Herald did not have the Norman County market cornered on it in the early 1900s. The Index puffed its chest over Ada and implicitly panned other municipalities by adding in the April 17 story, "Practically every city of any consequence has a golf course."
(Even Zumbrota, 315 miles away in southeastern Minnesota, might have agreed with that one. Zumbrota Golf Club was established with nine holes in 1927.)
On May 1, 1930, the Index offered more details on the new Ada Golf Club. It reported that arrangements had been made to lease land for six holes on the Norman County Fairgrounds property, with the "other three by the southwest on the Thorpe land." An additional four to five acres adjoining on the west of the fairgrounds land were to be used for golf, except during county fair time, when it would serve as a parking lot.
"A professional in laying out golf courses is expected to arrive next week," the Index reported. "… Local golfers of experience believe that the site selected is ideal for the purpose, being close to the city, and containing plenty of hazards." The club had nearly 40 members, the newspaper reported — a rather large contingent for small-town clubs of that era.
The professional did indeed arrive the next week. The Index reported that the course had been laid out by Fargo, N.D., professional Ralph Kingsrud, at the behest of club member S.J. Skaurud. Kingsrud was a prominent figure in North Dakota golf. He was the pro at Fargo Country Club, played in the 1928 U.S. Open and was inducted into the North Dakota Golf Hall of Fame in 1977.
Ada Golf Club had at least a few good years. The Minneapolis Tribune reported on April 17, 1932, that the club had 83 members, was expected to have 100 by the end of the year, and that an expansion to 18 holes was on the horizon. (I don't believe that ever happened.) The Index reported on April 14 that the club had in 1931 "enjoyed another successful year … a cash flow of $71 on hand after purchasing considerable equipment in the past year." The highest fee for club membership was $10 a year, and green fees were 50 cents on weekdays and 50 cents for each nine played on Sundays and holidays.
In May 1932, the club staged an 18-hole, medal-play tournament. In cold and windy weather, Oscar Bang headed the field of 14 players with a 41-40–81. In September, the club planned a members-only tournament, but it was rained out and apparently never rescheduled.
Sometime after that, Ada Golf Club began losing its shine. In June 1937, the Index reported that "efforts will be made to re-organize (the club) for this year, if enough interest is shown in the project. … The local course is in good shape and could be maintained but with little expense."
A week later, the Index reported that "the local course will be maintained again this season" and that membership would be $5. Presumably, the 50 percent price reduction from five years earlier can be attributed to the effects of the Great Depression.
But in searching through much of the Norman County Herald from 1938, I found no mention of the local club or course.
Whether 1937 was the end of Ada Golf Club, I don't know and won't speculate. But golf again returned to the city in 1960 with a third course, Heart of the Valley, on the southeastern edge of town and still in operation.
The following two tabs change content below.
Joe Bissen is a Caledonia, Minnesota, native and former golf letter-winner at Winona State University. He is a sports copy editor at the St. Paul Pioneer Press and former sports editor of the Duluth News-Tribune. His writing has appeared in Minnesota Golfer and Mpls.St.Paul magazines. He lives in St. Paul, MN.  Joe's award-winning first book, Fore! Gone. Minnesota's Lost Golf Courses 1897-1999, was released in December 2013.
Click here to order
Latest posts by Joe Bissen (see all)