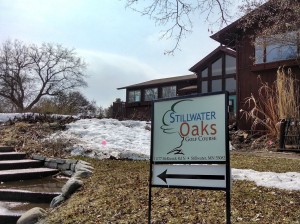 Here's a Minnesota golf course you probably haven't heard of: Stillwater Oaks.
Here's one you probably have heard of: Sawmill.
Sawmill, however, is no more. As the 2014 golf season nears opening day in Minnesota, the former Sawmill Golf Course will heretofore be known as Stillwater Oaks Golf Course.
4-22-14: Additional notes at bottom of this passage.
The northeast metro course is under new management. It is now operated by Northco Golf & Hospitality, a St. Louis Park firm, under a five-year management contract with the Nicholson family of Stillwater, which owns the land that Sawmill-nee-Stillwater Oaks is on. Company President Frank Jermusek confirmed to me via phone today that the course has been renamed Stillwater Oaks and said much of the course's new direction was finalized last week.
The changes are so new that I couldn't even find a reference to them today when I Googled "Stillwater Oaks" and golf.
Last fall, there were rumors and even reports last fall that Sawmill was set to close permanently. I heard the rumors as recently as last month at the Minnesota Golf Show. They are untrue. They were an outgrowth of last year's split between the Nicholson family of Stillwater, which owns the Sawmill land, and Sawmill Golf Club Inc., a group led by Dan Pohl which had leased and operated Sawmill Golf Course on a 30-year lease. The lease expired on Oct. 31, 2013, and the Nicholson family chose to hire new management. Pohl's group will continue to operate the nearly adjacent Logger's Trail Golf Course (both courses have Stillwater mailing addresses but actually are in the city of Grant, which is more or less halfway between Stillwater and White Bear Lake, north of Minnesota Highway 36).
The course will have new staff this season, and Jermusek indicated there will be changes to the clubhouse. He also allowed that green fees will rise, though he said rates will be priced "very, very reasonably." It should be noted that in recent years, Sawmill's green fees have been among the lowest in the Twin Cities metro area among full-length, 18-hole courses, edging as low as $18 for 18 holes.
A fee rate provided by Jermusek lists Stillwater Oaks' 2014 rates:
18 holes, Monday-Friday: $23
18 holes, weekends and holidays: $30
18 holes, seniors (over 60) and juniors, Monday-Friday: $18
Cart fees are extra. One-season membership for a single golfer will cost $795.
Update, 4-22-14: Stillwater Oaks now has a website, http://www.stillwateroaksgolf.com/. The full website is under construction. The course is not open yet, because the new management team still has some significant repairs that must be done to the clubhouse, for one. Bill Laimer, the new pro at the course, said he believes Stillwater Oaks could be ready to open sometime during the week of April 27.  The course came through the winter in fine condition, and Laimer expects there to be no issues with the grounds once it opens. Laimer said he doesn't anticipate any major changes to the layout.
Jerry Webb is the new Director of Grounds / Agronomist (in other words, superintendent) at Stillwater Oaks.
Below is a photo of the Stillwater Oaks grounds as of March 21. No doubt, it will green up even further with warmer weather and a little moisture (no, not snow!).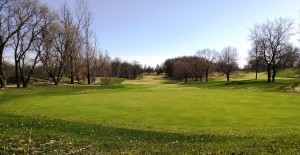 A couple of asides:
— Another rumor I heard last week of a similar nature also is untrue. I was told French Lake Open Golf Course, a nine-hole, par-29 course in Dayton, was among the growing number of recently closed courses around the metro (joining the likes of Parkview in Eagan, Hudson (Wis.) Golf Club, Red Oak and Lakeview in Mound, and Sundance in Dayton, among others). Not true, not true, not true. Course owner Mark Regan told me by phone that French Lake will in fact be open in 2014, albeit with some changes in ownership/management. At $13 and well under two hours for nine holes, French Lake and similar par-3 and executive courses (I'm partial to Gem Lake Hills in Gem Lake because I live only a couple of miles away) are every bit as integral to the game of golf as the bigwigs like Hazeltine and Interlachen. The French Lakes of the world are the courses where people learn the game at their own pace and without the prospect of being intimidated by being around more accomplished players. I can't state strongly enough how much I respect those who continue to operate such courses (as well as those who have tried but have found it just too burdensome in the past 10 years).
— Sadly, there are two more entries on the roll of Minnesota's lost golf courses as 2014 opens, in addition to those mentioned parenthetically in the previous paragraph. News reports confirm that the Fred Richards executive course in Edina has closed permanently, as has KateHaven in the southeastern corner of Blaine. Adding those two to the list, my rough count of lost golf courses in Minnesota since 2000 now stands at 28.
— I will not go into detail on this subject, but after my brief conversation with Jermusek, who I admit is biased, I am in agreement on two things: A) regardless of all of the closings, golf is not "dying," as ill-informed commenters are wont to post any time another course is abandoned; and B) this rash of closings still is a residual effect of overbuilding and overinvesting in the late 1990s and early 2000s, and what's happening now is a market correction as much as anything. No doubt there still are tough times ahead for many course owners, maybe even for the next 10 years, but at some point, and not to diminish the carnage incurred so far, the market will sort itself out.
The following two tabs change content below.
Joe Bissen is a Caledonia, Minnesota, native and former golf letter-winner at Winona State University. He is a sports copy editor at the St. Paul Pioneer Press and former sports editor of the Duluth News-Tribune. His writing has appeared in Minnesota Golfer and Mpls.St.Paul magazines. He lives in St. Paul, MN.  Joe's award-winning first book, Fore! Gone. Minnesota's Lost Golf Courses 1897-1999, was released in December 2013.
Click here to order
Latest posts by Joe Bissen (see all)