Maybe it's just me.
OK, it's just me.
But one of the compelling things — to me, just me — about rummaging around for Minnesota's lost golf courses is occasionally coming across something quite unusual — an old scorecard, an old photo, an old duffer buried and petrified beneath the surface of an ancient pot bunker from which he could not extricate himself (OK, haven't come across one of those yet).
There is satisfaction, too, in sharing a find with two or three people who might care.
Sometimes as many as four.
The downside is that for every find, there can be more questions raised than answers revealed.
Case in point:
In August 2015, I wrote about the former Clearwater Country Club of Annandale, in central Minnesota's Wright County. A couple of months ago, a friend who shares an interest in Minnesota golf history alerted me to an eBay auction for an old Clearwater CC postcard.
Old postcards of old golf courses in Minnesota aren't unusual. There are plenty available from the state's first course, Town & Country Club of St. Paul. There may be even more available from another early and historic course, Minikahda of Minneapolis. (Maddeningly, close to half of the postcards from the latter course mangle the spelling of the course's name, going with Minikhada or the even more common ultramangling, Minnekahda.)
But postcards from other lost courses don't show up every day, and they often offer little more than a dim view of a shoreline or a clubhouse. I was drawn to this Clearwater CC postcard because of the clear view of the terrain and Clearwater Lake in the background, and the clear depiction of a golf course, even if no greens or 22-handicappers are visible nearby.
So I bid on the postcard and was fortunate enough to win it, for something less than the price of a new Callaway driver, which I wouldn't be able to hit worth a damn anyway. A look at the card, and a long-ago view of Clearwater Country Club, is presented below.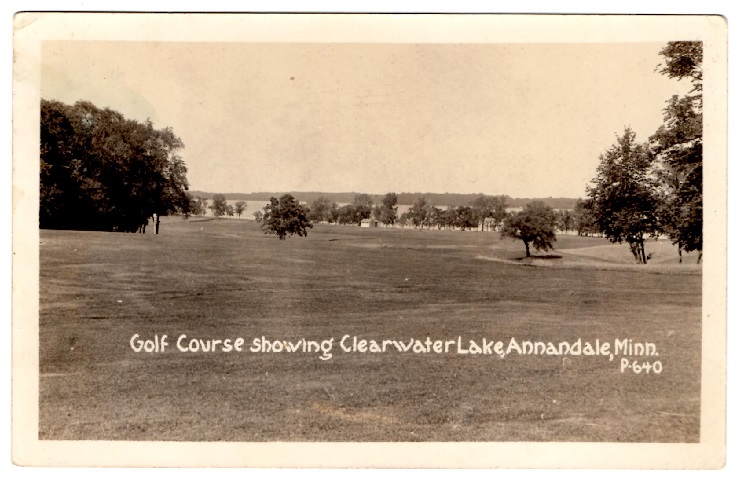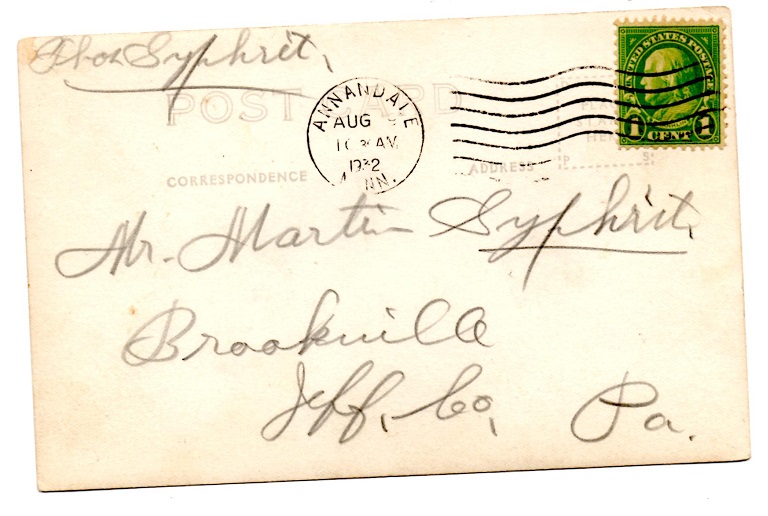 Best guess is that the photo was taken from near the center of the golf course, looking northeast and toward Clearwater Lake. Wright County Highway 24, which was more or less the southern border of the course, would be behind the photographer, as would the clubhouse. There is a better look at the entirety of the golf course in an aerial photo of the course on my original post on Clearwater CC (see link above).
But it seems like I can never come up with one nugget from a lost golf course without more unsolved mysteries arising. So it is with Clearwater CC.
I reported in my original post that Clearwater Country Club "opened before 1942, most likely." I'm never crazy about being so vague, but is inevitable in this line of work/folly because absolute confirmation of "facts" can be difficult to come by. The postcard above, however, suggested that Clearwater CC was in fact founded well before 1942. The date on the postmark, though partially obscured, appeared to be 1932. Short of trying to contact Mr. Martin Syphrit (spelling?), to whom the postcard was mailed and who presumably has long since ceased to become reachable via a valid postal address in Brookville, Pa., I thought I would try to be more precise with the founding date of Clearwater Country Club.
Browsing through issues of the Annandale Advocate from 1932 held on microfilm at the Minnesota History Center revealed nothing — no mention of a golf course. Across the hall from the History Center's microfilm room, however, is the Gale Library, with a wonderful collection of books, magazines and other resources. Included among those holdings is an Annandale centennial book, issued in 1988 and titled "Community with Spirit."
The centennial book cleared up for me the exact date of Clearwater Country Club's founding. An entry reads:
"1925: Agitation for a golf course. In 1925, Mrs. L. Longfellow was the President of the first golf club in Annandale. The first golf course in the area was located near Clearwater Lake. It was a nine-hole course with sand greens, and has since been platted for lots, and many homes have been built on the land."
As far as I can tell, a 1925 opening would have made Clearwater Country Club the first golf course in Wright County.
Of course, if I had come across the centennial book in the first place, I never would have had to speculate that Clearwater CC was founded "before 1942." But you never know in which order you'll find these little gems, so you do what you can with what you have.
Anyway … it may be small potatoes, but there you have it. A cool, old view of Clearwater Country Club, plus the knowledge that someone first striped a drive there in the year 1925.