Today's Sunday drive took me just west of downtown Minneapolis, to the grounds of Minnesota's oldest public golf course, Theodore Wirth.
You think it ain't? I say it is.
You can Google around for hours (sadly, I have done this, neglecting important duties such as getting the garbage out in time) and find references to Theodore Wirth Golf Club as "one of the first public courses in the state" or as "Minnesota's first municipal golf course."
Both labels are true, though less definitive than they might be.
To my knowledge, Wirth is just plain the first public golf course in Minnesota history, even if the distinction between "municipal" and "public" is perhaps trifling.
Wirth was established in 1916. though at the time it was named Glenwood Park Golf Links. In 1938, it was renamed Theodore Wirth Golf Club, in honor of the estimable Minneapolis Park Board chairman and supporter of municipal golf from 1905-1935. (A more complete timeline of the establishment of the course can be found in a 2016 story I wrote for Minnesota Golfer magazine.)
Wirth preceded Phalen Park, across the Mississippi River in St. Paul, by one year as Minnesota's first public golf course.
Theodore Wirth Golf Club did not predate, however, the hills upon which it was built. (I know. Duh.) There are two distinct features of this golf course: One, the views of the Minneapolis skyline from Wirth's front nine, which lies upon low land along Bassett Creek, and the relative Swiss Alps-like terrain on the course's back nine.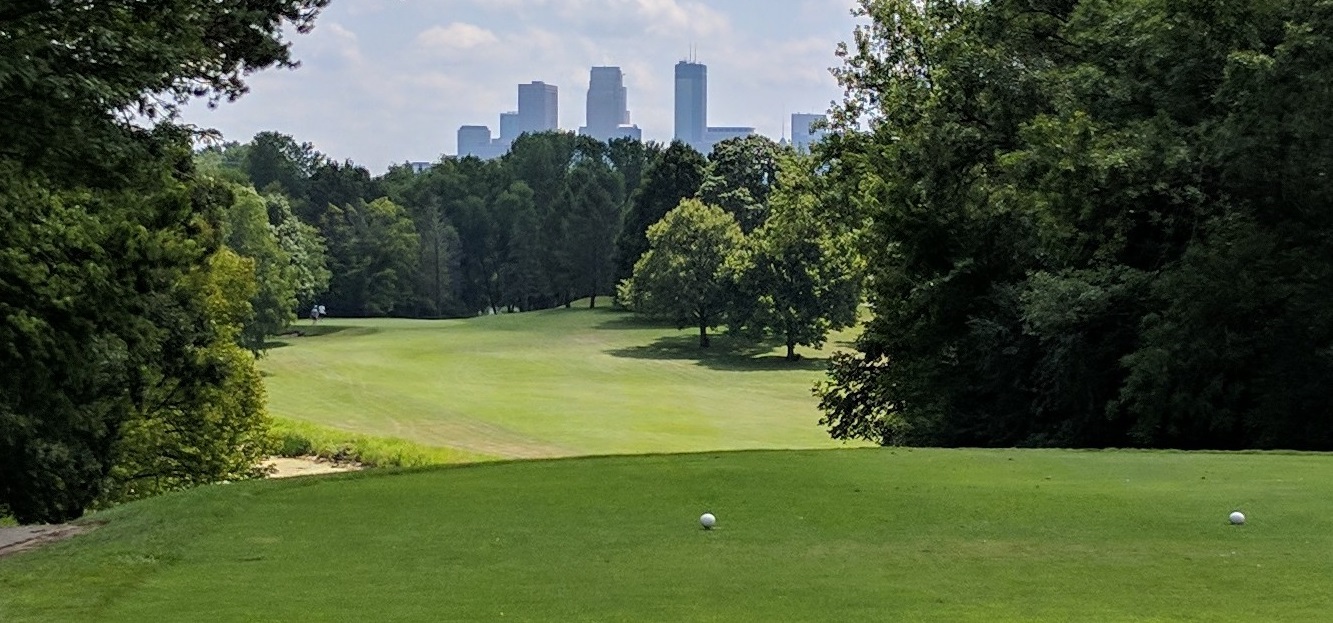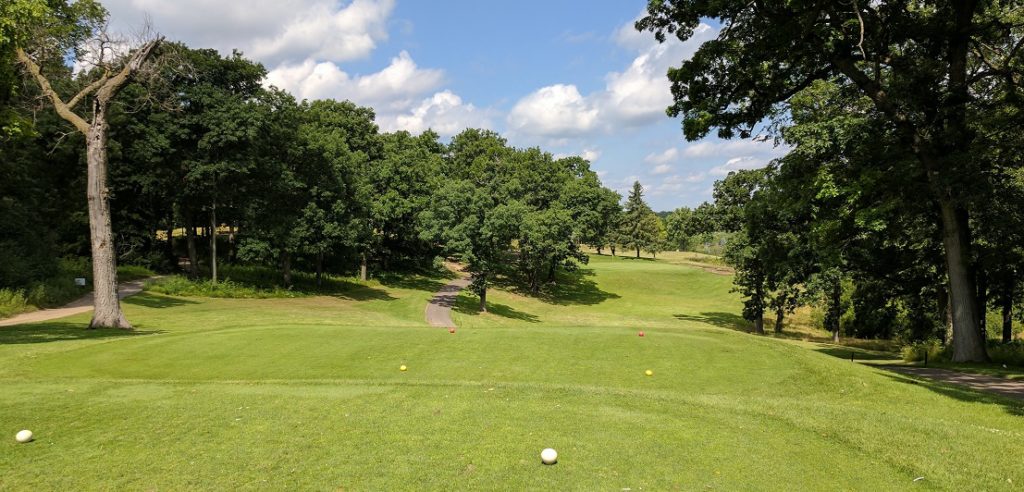 Did someone say Swiss?
That reminds me. Notable feature No. 3, I suppose, is the golf course's clubhouse, known simply as The Chalet, designed in the image of a Swiss chalet. Wirth was Swiss, so the chalet's design stands as a tribute to him.
For all of the talk in recent years about golf being a "dead" or "dying" sport, on this day, Wirth blew raspberries at the haters. There were dozens of cars in the parking lot, there were groups of golfers on a majority of the holes, and with a steady stream of bikers passing by on Wirth Park's bicycle trails, it seemed like a great advertisement for peaceful coexistence between those who golf and those who appreciate green space. Or maybe even an advertisement for those who appreciate both. I couldn't help but think of the uncertain fate of Hiawatha Golf Course, another city-owned course six miles to the southwest, and how important Wirth would become to Minneapolis golfers if Hiawatha were to close (I predict, sadly, that it will, but others know more about that than I do).
Back to the terrain. Wirth is not, literally speaking, for the faint of heart. The ups and downs of the back nine come at a golfer right away, with a 60-foot rise from the 10th tee to the 10th green. The rest of the back nine features mostly gentler climbs and descents, but climbs and descents nonetheless. A golf cart would seem the best way to navigate the place.
The course is undergoing renovations on its front and back nines, with the 17th and 18th holes being rebuilt. Theodore Wirth Park also features a par-3 course, a disc golf course, and archery, a fishing pier, cross country skiing, and sledding and tubing, among other features. The park lies mostly within the borders of Golden Valley but is managed by the city of Minneapolis. And not that anyone cares, but an even older, more historically significant golf course lies — OK, technically lay, past tense — just beyond the park's southeastern border. Bryn Mawr Golf Club (1898-1910), which occupied land at and sweeping above the intersection of Penn and Cedar Lake avenues in Minneapolis, in its two iterations spawned both the Minikahda Club and Interlachen Country Club.
More Wirth photos (click on any, above or below, for larger images):
The following two tabs change content below.
Joe Bissen is a Caledonia, Minnesota, native and former golf letter-winner at Winona State University. He is a sports copy editor at the St. Paul Pioneer Press and former sports editor of the Duluth News-Tribune. His writing has appeared in Minnesota Golfer and Mpls.St.Paul magazines. He lives in St. Paul, MN.  Joe's award-winning first book, Fore! Gone. Minnesota's Lost Golf Courses 1897-1999, was released in December 2013.
Click here to order
Latest posts by Joe Bissen (see all)