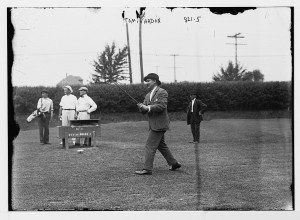 Every good book needs a protagonist, right?
Well, I'm not sure whether the fellow in the photo above qualifies as my protagonist, but he is the closest thing to a chief character in "Fore! Gone." Tom Vardon shows up in the book like bogeys show up on my scorecard — early and often. (The photo is from the Library of Congress archives.)
Vardon, a native Englishman, was the head professional at White Bear Yacht Club in Dellwood from 1916-1937. He was the brother of the famed Harry Vardon, six-time British Open champion. Tom was no slouch with mashie in hand, either. He had nine top-10 finishes in the Open.
Tom also instructed Harrison "Jimmy" Johnston at WBYC; Johnson went on to win the 1929 U.S . Amateur, then considered a major tournament, at Pebble Beach and had a ticker-tape parade through the streets of downtown St. Paul thrown in his honor.
Yet it is Vardon's prolific prowess as a golf course designer that has left the most lasting, and most undeservedly anonymous, mark on Minnesota golf. Among the courses Tom Vardon designed are at least 21 23 (updated December 2017) in Minnesota, including five lost courses that are included in my book — Bunker Hills, Matoska, Ortonville, Quality Park and Westwood Hills (the latter is my "king" of lost courses, with a star-studded and star-crossed history).
Vardon's contributions to Minnesota golf are described in detail by Minnesota author Rick Shefchik in "From Fields to Fairways," his estimable history of the state's classic golf clubs. Shefchik appropriately dubs Vardon "The Unsung Hero" and writes, "Tom Vardon is the most unjustly forgotten figure in the history of Minnesota golf."
I would place Vardon with Johnston, Patty Berg and C.T. Jaffray as the most important figures in Minnesota golf in the first half of the 20th century. (Just off my short list would be the likes of Harry Legg, Les Bolstad, Jock Hendry, Willie Kidd, D.N. Tallman and Gunnard Johnson. Totton Heffelfinger doesn't make my list only because many of his considerable contributions came after 1950. But I digress.)
Shefchik listed the large majority of Tom Vardon-designed golf courses in his book. To my knowledge, no one has assembled a complete list — and, most likely, no one will, because there assuredly are other designs, lost or extant, that have not been publicly attributed to Vardon. That said, allow me to humbly be the first to attempt to compile a nearly complete list of golf courses designed by the remarkable Tom Vardon. (My sources, when they are not the Shefchik book, are noted in parentheses.)
I would be honored if you would weigh in with your favorite Tom Vardon design:
Settle Golf Club (North Yorkshire, England), 1895 (golfclubatlas.com)
Austin Country Club, 1919
St. Cloud Country Club, 1919
Worthington Country Club, 1919
Meadow Lark Country Club (Great Falls, Mont.), 1919
St. Croix Valley Golf Club (Wis.), 1920
Minnewaska Golf Club, Glenwood, 1920
Hillcrest Country Club (St. Paul), 1921
Sauk Centre Country Club, 1921
Ortonville Golf Club (original nine, now a lost course), 1922
Amery Golf Club (Wis.), 1922
Matoska Country Club (lost course), Gem Lake, 1923
Stillwater Country Club (first nine), 1924
Lakeview Golf Club (Mitchell, S.D.), 1925
Quality Park (St. Paul, lost course), 1925 ("Tee Party on the Green")
Clear Lake Golf Club (Wis.), 1926
Highland Park Golf Club (St. Paul), 1927
St. James Golf Club, 1927
Cannon Golf Club (Cannon Falls), 1927
Shoreland Golf Club (St. Peter), 1928
Lake City Golf Club, 1928
Southview Country Club (West St. Paul), 1929
Minot Country Club (N.D.), 1929
Eau Claire Golf & Country Club (Wis.), 1929
Westwood Hills Golf Club (St. Louis Park, lost course), 1929
University of Minnesota Golf Club (Falcon Heights), 1929
Como Golf Club (St. Paul, second nine), 1930
Spooner Golf Club (Wis.), 1930
Little Falls Golf Club, 1930
Merrill Golf Club (Wis.), 1930
Willmar Golf Club (Minn., now Eagle Creek), 1931
Phalen Golf Club (St. Paul), 1932
Bunker Hills Country Club (Mendota Heights, lost course), 1933
Lee Park Golf Club (Aberdeen, S.D.) 1933
Rugby Golf Club (Rugby, N.D), 1934
Benson Golf Course (Minn., likely a redesign), 1937
Others
Note: The courses listed below are part of a Wikipedia entry. I will not deign to judge the veracity of "Wiki" listings. Judge for yourself:
Coventry Golf Club (England), 1911 (also credited by WorldGolf.com and golfclubatlas.com)
Kendal Golf Club (England) (alterations to the original layout)
St. Augustines (Cliffsend, England), 1907 (also credited by WorldGolf.com)
In addition, Wikipedia credits Vardon with adding pot bunkers to Strathpeffer (Scotland) Golf Club in 1908. This would not count as a Vardon design.
Contributions
White Bear Yacht Club — there is a long and often-contentious thread about the original designer of WBYC at golfclubatlas.com.  Essentially, one camp considers Donald Ross the primary designer; another believes William Watson was the original designer. Either way, it is apparent that Vardon contributed to the lauded design, possibly before he became the WBYC pro.
Shattuck Golf Course (Faribault; it now is what I have termed in my book a "rebirthed" course — the Shattuck course is gone, replaced in its entirety by Legacy Golf Course)
One final note: I'm not going to select my favorite Vardon design because, sadly, there are a lot of courses on the list that I haven't played. But my favorite Vardon hole, and one of my favorite holes by any definition, is the 18th at Spooner Golf Club in northwestern Wisconsin, a 408-yard par-4 off an elevated tee and with water all along the right side to the green. A Tom Vardon masterpiece.
I must close with a shameless plug. I am in urgent need of more pledges for my Kickstarter.com campaign, which must succeed in order for me to get "Fore! Gone. Minnesota's Lost Golf Courses, 1897-1999" published. I'm afraid I have no other means by which to offset printing costs. If you'd like to make a pledge — and there are rewards that go with all pledge levels — you can find a link to the Kickstarter campaign elsewhere in this blog, or go to Kickstarter.com and do a search for my name. Thank you!
Joe Bissen
The following two tabs change content below.
Joe Bissen is a Caledonia, Minnesota, native and former golf letter-winner at Winona State University. He is a sports copy editor at the St. Paul Pioneer Press and former sports editor of the Duluth News-Tribune. His writing has appeared in Minnesota Golfer and Mpls.St.Paul magazines. He lives in St. Paul, MN.  Joe's award-winning first book, Fore! Gone. Minnesota's Lost Golf Courses 1897-1999, was released in December 2013.
Click here to order
Latest posts by Joe Bissen (see all)