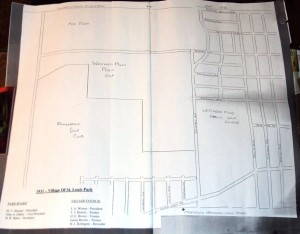 Winona Golf Club was Minnesota's first lost golf course, ditched by its founders in autumn 1897. Bryn Mawr Golf Club was Minnesota's most historic lost course, spawning both Minikahda (1898) and then Interlachen (1910). Rich Acres was Minnesota's most popular lost course, playing hosts to tens of thousands of rounds annually until it was replaced by an airport runway in 1999.
Yet none of those, or any of the state's other known 80-plus lost golf courses, attracts curiosity quite like Westwood Hills.
In the off-and-on three years since I started researching lost golf courses, and in the month and a half since my lost-course book has been in print, I have fielded more questions about Westwood Hills than any other course. Maybe more than questions about all other lost courses combined.
I think it's because Westwood Hills serves as such a bridge, in a number of ways.
Chronologically, the old-but-not-really-antique course in St. Louis Park bridges a gap between the scores of long-ago lost courses that closed in the 1930s (Great Depression) or 1940s (effects of World War II) and the dozens that have closed since Rich Acres' shutdown. The course closed in 1961, so there still are older golfers who remember it and are interested in its history, plus another whole generation of golfers who might have heard of the place from parents or uncles but don't know the first thing about it.
Geographically, the course is a bit of a bridge from urban Minneapolis and St. Paul to the suburbs. It's not like St. Louis Park is far-flung, so there are thousands of Minnesotans familiar with the city, and with the general area of the golf course's resting place — just southeast of the intersections of I-394 and U.S. 169.
Sociologically, for lack of a better term, the 27-hole public, daily-fee course seems to have bridged a gap between the more-exclusive private clubs of the western suburbs — Westwood Hills was, incidentally, adjacent to the esteemed Minneapolis Golf Club — and the public courses played by most of Minnesota's golfers. In fact, an old Westwood Hills scorecard, dated 1933, advertises thusly: "Where Private Club Courtesy and Playing Conditions Prevail."
All of which is a way of working toward a little Westwood Hills gem that was thrown my way last weekend.
Mark Oestreich, manager at Westwood Hills Nature Center, was kind enough to track me down at a book-signing event, and he dropped off an old — very old, in fact — map of the Westwood Hills neighborhood. A scan of the map is at the top of this post; you can click on it for a closer view.
The map is dated 1931, two years after Westwood Hills Golf Course (then named Westwood Hills Country Club) opened and is titled "1931 – Village of St. Louis Park." At that time, St. Louis Park still had not incorporated into a city.
The map, along with a brief discussion with Oestreich, confirms most of what I had either known or surmised about the Westwood Hills Golf Course area and had reported in my book, "Fore! Gone. Minnesota's Lost Golf Courses 1897-1999." Most of the southern borders of Westwood Hills GC were in fact adjacent to Minneapolis Golf Club (there is a humorous anecdote in my book about Westwood and Minneapolis golfers getting mixed up during their rounds). A few observations:
— The course grounds apparently went as far east as Flag Avenue on a small stretch.
— The course did in fact cross Texas Avenue — it is labeled Columbus Avenue on the map; the street later was renamed — and went as far south as Cedar Lake Road and as far east as Irving Avenue in that section. I'm not 100 percent sure, but my assumption is that Irving Avenue is now either Sumter Avenue or Rhode Island Avenue. A portion of that area is now occupied by St. Louis Park Middle School, and old aerial maps suggest that two of Westwood Hills' greens rest on or near the school building itself. The course in that area did not cross north of Franklin Avenue, which now is Lamplighter Park.
— The course did not go as far north as I-394, which in 1931 was known as Superior Boulevard. In Westwood Hills' western section, Douglas Avenue was its northern boundary. And I have to profess ignorance here — I'm not sure what Douglas Avenue's modern-day name is. It appears to closely coincide with what is now known as West 16th Street.
— The most interesting aspect of the map, to me, was the "Fox Farm" designation along the northern edge. This would have been along Superior Boulevard (now I-394) as far east as what is now Texas Avenue and as far west as what is now Flag Avenue. Oestreich had told me last fall about the old fox farm, but he wasn't aware it stretched as far west as Flag Avenue. That connects a couple of dots for me. In the book, David Chapman, who grew up in the neighborhood, told me about an area he had explored with his friends as a kid. He and his buddies labeled it "Bones Woods" because of the large, old bones they found in the woods west of what is now Westwood Lake. To Chapman as a youth, he said they looked like old dinosaur bones.
More likely, they were bones from horse carcasses. Oestreich told me that the owners of the fox farm would kill horses on the property and feed them to the foxes. He also told me over the weekend that some of the area's residents were none to keen at the time about occasionally hearing gunshots in the neighborhood. (This was a semi-rural area at the time.) Seems to add up to me — I'm guessing the southwest corner of the fox farm, near the northern border of Westwood Hills Golf Course and southwest of what is now Westwood Lake, is where Bones Woods was, and that those were horse bones you discovered there, Mr. Chapman.
I would love to hear more about the history of the neighborhood, so please feel free to comment, even if it's to debunk what has been reported. More importantly, Oestreich is doing research on the history of Westwood Hills Nature Center and the Westwood Hills neighborhood. He is most interested in trying to put together an exact routing of Westwood Hills Golf Course. There are a handful of old green sites and tee boxes on the site (I found only one, but Oestreich says there are more, and he would know), and Oestreich would like to connect his own dots to know exactly which holes were on the nature center property and beyond. I am sure he would welcome a call at the nature center.
The following two tabs change content below.
Joe Bissen is a Caledonia, Minnesota, native and former golf letter-winner at Winona State University. He is a sports copy editor at the St. Paul Pioneer Press and former sports editor of the Duluth News-Tribune. His writing has appeared in Minnesota Golfer and Mpls.St.Paul magazines. He lives in St. Paul, MN.  Joe's award-winning first book, Fore! Gone. Minnesota's Lost Golf Courses 1897-1999, was released in December 2013.
Click here to order
Latest posts by Joe Bissen (see all)