Here, summarizing and paraphrasing, is what the Internet has to say about the history of a certain central Minnesota sporting venue:
"Little Falls Country Club" … "opened in 1930" … "designed by Jim Dahl."
That's the Cliff's Notes version.
Cliff didn't take perfect notes.
Now, I admit I am no expert on the history of Little Falls Country Club (given almost equal billing as Little Falls  Golf Course on web sites and in promotional materials). And because Little Falls does not have a lost-course connection, maybe I should keep my grubby lost-course paws out of this.
Sorry. No.
While snooping around and working my way up toward Minnesota lost golf course No. 150 — almost there — I came across a few old newspaper stories dealing with the origins of golf in Little Falls.
Little Falls CC, opened in 1930? In the name of Little Falls' own Charles A. Lindbergh, I'm positive that's not true.
Consider these excerpts from from the Little Falls Herald:
May 27, 1921, in a story headlined "Golf Links Are Purchased By Club": "If one should out of idle curiosity get up at about 5:30 in the morning these fine days and amble down along the river bank on the east side below the lower railroad bridge one would find skipping about on the green some of our good business and professional men who were never before known to get up before 8 a.m. The reason is evident — they've got the 'golf fever.'
"While no regular course has yet been laid out, the members of the newly organized golf club have put in a few holes and are warming up, if they have ever played the game before, or getting the rudiments of the game if it is new to them."
July 19, 1921: "An expert, who has been employed by the Little Falls Town and Country club, completed a nine-hole course last week and the members are taking advantage of the finished course."
Aug. 19, 1921: "… The grass has been mowed on all the fareways (sic). R.D. Musser had the first fareway fixed up at his own expense."
April 7, 1922: "The question of erecting a clubhouse was discussed and it was decided not to attempt same this year, but to put all efforts into making the golf course first class. The club now has a membership of 101. …"
Dec. 9, 1922: "Some fiften (sic) or sixteen golf bugs had a round of golf at the course here Christmas Day."
Ninety-four and a half years later, a phone call to Little Falls and a conversation with golf club manager Rich Frey reveal that the club was indeed officially founded in 1921 — on July 16, according to an original version of the bylaws held in Frey's possession at the course. An April 15, 1921, story in the Little Falls Herald listed Dr. J.R. Holst as the club's first president, with membership fee at $50 and 116 inaugural members enrolled. The story suggested the grounds would not be ready for play until June or July.
So 1930, usually cited as the founding year of Little Falls Country Club, is not technically correct. That year more than likely corresponds with a club decision to embark on a significant improvement of the layout. (I should give credit to St. Cloud Times golf columnist John Lieser, who did correctly write in 2007 that Little Falls CC was established in 1921. He is one of the few to have gotten it right.)
In 1931, according to Frey, bentgrass was ordered for the greens (presumably sand greens to that point). In April 1931, according to Frey, a prominent Twin Cities golf course architect (I'll get to his name) was retained for $25 a day plus expenses to design a revised layout. This fellow was paid $150 later that year to build the greens, then was paid $10 to review the finished product.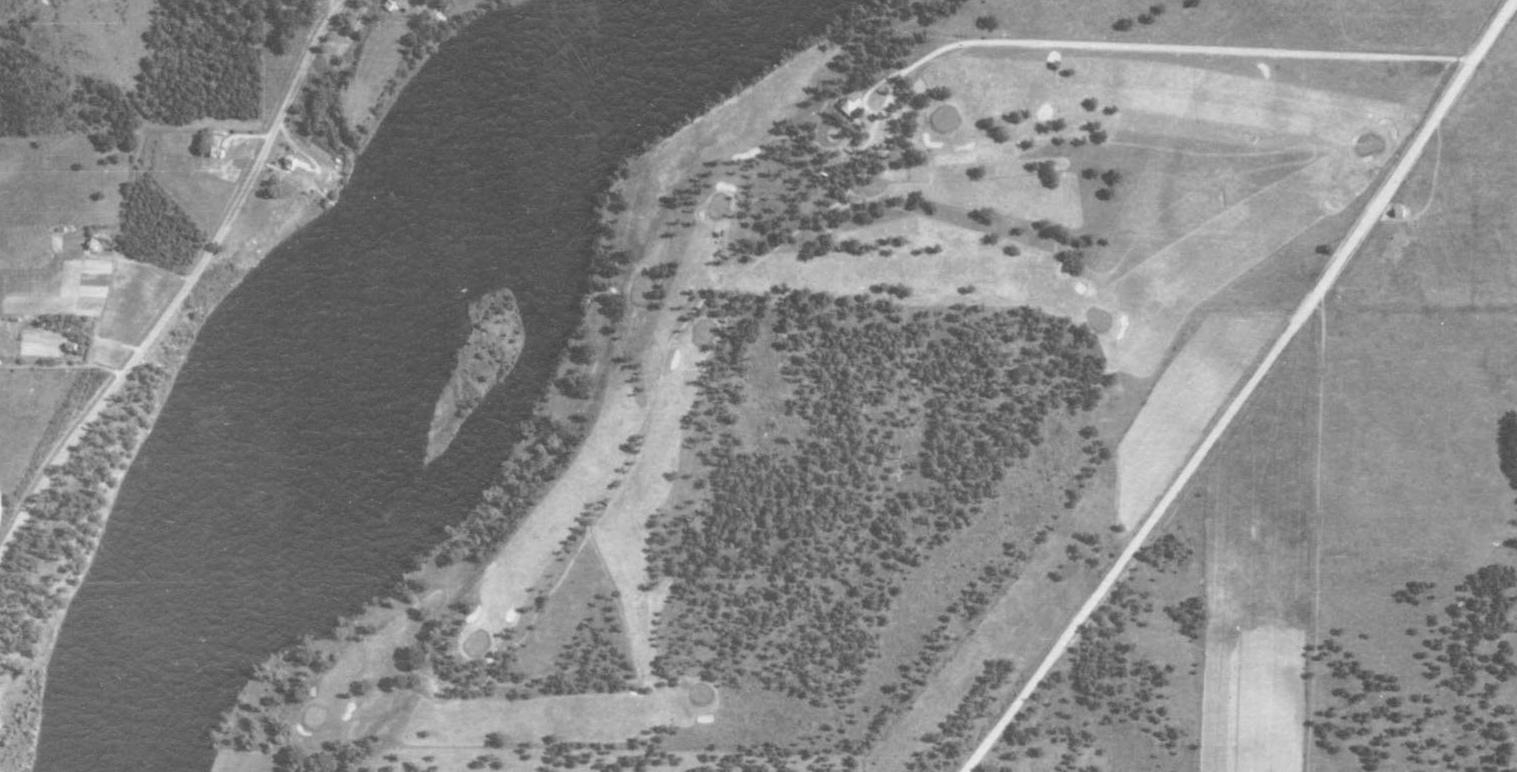 Judging by aerial photos of the course in 1940 (above, courtesy of University of Minnesota's John Borchert Map Library) and 1950 (below, also Borchert), Little Falls Country Club did not change appreciably in its earliest years. (The "18" marked on the later photo was probably just a catalog notation, even if it did turn out to be coincidentally prophetic.)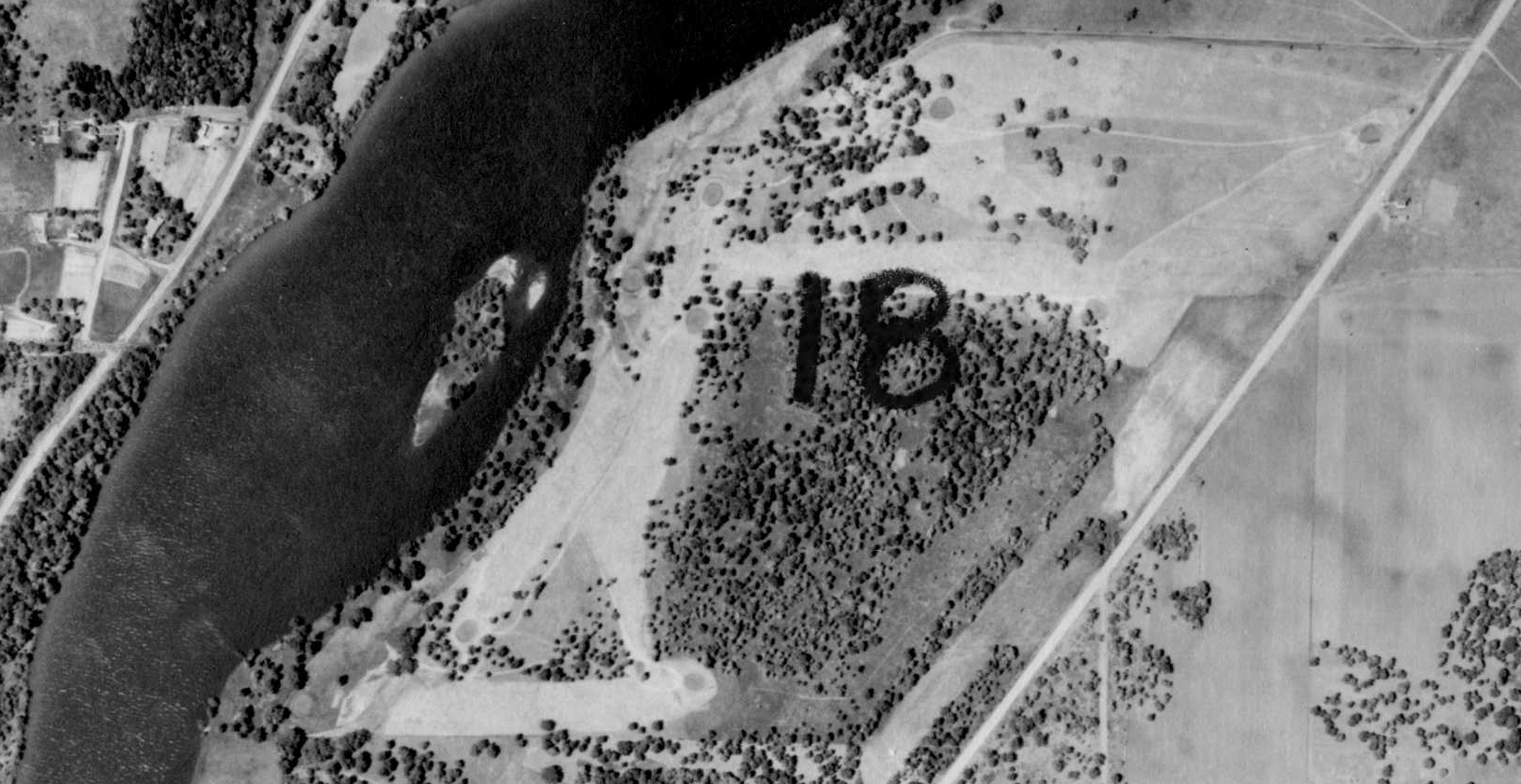 A major change to Little Falls Country Club came well into its adulthood with its expansion to 18 holes — in 1975, according to one source, or 1980, according to another. Enter the aforementioned Jim Dahl, who first was an employee at the course and then became the primary figure in its redesign. Much of the new nine holes covered the area marked "18" and just below it in the photo above.
Dahl is known in central Minnesota golf circles for also having designed Eagle's Landing in Fort Ripley, Oak Hill in Rice and Pine Ridge in Motley. And certainly, he is the central figure in the current design of Little Falls CC. But it would be a historical transgression to not mention the course's previous architects, both of considerable prominence.
From a Dec. 2, 1921, Little Falls Herald story:
"Officers and directors of the Little Falls Town and Country Club are considering having a full 18-hole golf course laid out on their 90-acre tract south of town, near the Mississippi river. W.D. Clark, golf expert, who laid out the present 9-hole course, is expected to come here in the near future to confer with the club directors regarding same."
Although the expansion to 18 holes didn't occur until some 60 years later, the mention of W.D. Clark is significant. William D. Clark designed or contributed to the design of at least a dozen Minnesota layouts, including Oak Ridge in Hopkins and Northfield Golf Club, plus four Minneapolis municipal courses and Chisago Golf Club, now a lost course in Chisago City. He also nearly became involved in a never-performed redesign of the first golf course in Madelia. 
When Little Falls' course was redesigned in 1930-31, an even more prominent name came along. For that $25 a day, the club retained one Tom Vardon to oversee the redesign.
Vardon was the head professional at White Bear Yacht Club in Dellwood and the brother of six-time British Open champion Harry Vardon. Tom Vardon designed to contributed to the design of at least 40 courses in his native England and the Upper Midwest. Among them were five lost courses covered in "Fore! Gone." — Bunker Hills, Matoska, Ortonville, Quality Park and Westwood Hills — plus more than 20 still-existing courses in Minnesota, including Southview Country Club, University of Minnesota-Bolstad, St. Cloud Country Club, Stillwater CC and Phalen Park. (Correction, October 2017: The Vardon list also should have included Sauk Centre Country Club and Shattuck in Faribault.)
In mid-2017, as Little Falls Country Club, now city-owned, approaches its centennial anniversary, it retains many of the features that have made it a reputable track. It is, I'm told, a sporty 18 holes, tree-lined and with small and undulating greens, especially rewarding to play if one can hit the ball straight. It features modest greens fees of $21 for 18 holes and $13 for nine, made even more attractive because weekend rates are the same as weekday. And it has history on its side — in addition to Clark, Vardon and Dahl, it is, as far as I can tell, the first and oldest golf course in Morrison County.
Cliff, you may now update your notes on Little Falls Country Club.
Featured image posted with permission of Little Falls Country Club.
The following two tabs change content below.
Joe Bissen is a Caledonia, Minnesota, native and former golf letter-winner at Winona State University. He is a sports copy editor at the St. Paul Pioneer Press and former sports editor of the Duluth News-Tribune. His writing has appeared in Minnesota Golfer and Mpls.St.Paul magazines. He lives in St. Paul, MN.  Joe's award-winning first book, Fore! Gone. Minnesota's Lost Golf Courses 1897-1999, was released in December 2013.
Click here to order
Latest posts by Joe Bissen (see all)